Acquiring a business is a milestone event for most buyers – one that can take significant personal and financial investment.  CenterPoint's Advisors will assist you in evaluating our client's business opportunities to find one that meets your key goals.  We help you shape your evaluation criteria and select the business opportunity that best fits your personal & financial objectives, skills and resources.
To start the process we ask each buyer to register with us so that we can immediately begin helping you through the acquisition process.  To receive detailed information about specific businesses you will be required to execute a Confidentiality Agreement followed by a phone interview with one of our Business Advisors.
As a registered buyer you will be among the first to hear about new business opportunities.  Once you have selected a business to pursue, one of our Business Advisors will work closely with you and your team to guide you through the complex process of contracting, financing and acquiring a business.
[su_box title="Strategic Acquisition Services"]CenterPoint Business Advisors is pleased to offer a full suite of services designed to assist its buyer clients to successfully identify and acquire the type of business opportunity that is the perfect fit for their situation.
[su_accordion]
[su_spoiler title="Executive Buyers" style="fancy"]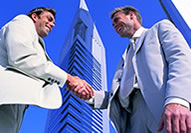 Recent company layoffs have increased the ranks of the unemployed, as well as impacted the people that still have jobs with a diminished perception of job security.
Many displaced executives and middle managers are looking for an established and profitable business to enable them to support their families and continue with their intended lifestyle.
What are some considerations for those looking, or soon-to-be looking, for a business? 
Anyone looking to buy a business needs to conduct a self-assessment of their family situation, professional background, financial condition, and future goals.
While only one spouse may actually manage and operate a business, the whole family will be affected by the demands and time commitment required, so both spouses must be involved in the decision making stages of buying a business.
How much money can they invest to buy a business, as well as to sustain it with working capital for a reasonable period of time?
What level of cash flow do they need from the business in order to meet current and future family financial obligations?
How good is their personal credit history and score–as this will be a key factor to determine their ability to borrow money from a commercial lender.
The Strategic Acquisition Service is designed to help you work through these life decisions and provide you a set of services designed to move you forward if the situation is right!
Services For Executive Buyers
Dedicated & exclusive buyer representation
6-12 month agreement
Creation of buyer advisory team as necessary
Advisory services to include: Development of objectives, criteria, and target segmentation

Establishment of proven, effective and efficient business buying system and process
Buyer business plan development & guidance
Financing framework assistance
Rigorous search method and confidential process to identify and engage sellers within target range
Packaging of buyer to include—specific skill set; professional background; right "fit" and financing ability/asset summary
Analysis of interested target firms and related industries
Arrangement of intro, meetings, tours, etc.
Valuation of target company
Preparation of LOI/Purchase Agreement
(work with advisory team as required)
Negotiation advice & guidance
Due diligence facilitation & coordinate advisory team
Closing and transition assistance, including 30 & 60 day post events
For an initial consultation and further information, call CenterPoint Business Advisors at 888-988-0999.[/su_spoiler]
[su_spoiler title="Strategic Aquirers" style="fancy"]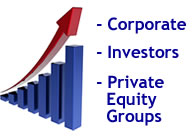 The old adage "Buy Low-Sell High" works well during low levels of the economy.
Despite recessionary conditions, many corporations have found these times to be favorable for making a strategic acquisition.
Many successful companies have expanded during weaker economic climates and have gained both market share and increased profits. Valuations are lower, labor is in ample supply, and operating costs are usually reduced.
CenterPoint works with Corporations, Private Equity Groups, and Investment Groups to identify, assess, and engage acquisition targets.
Buyer Services For Corporate Acquirers:
Refinement of acquisition plans & strategy
Rigorous search method and confidential process
Industry analysis to identify possible targets
Competitive intelligence to determine likely fit and response
Pre-due diligence prior to introduction
Arrangement of intro, meetings, tours, etc.
Valuation of target company
Negotiation advice & guidance
Transitional assistance
Other customized services as required
For an initial consultation and further information, call CenterPoint Business Advisors at 888-988-0999.[/su_spoiler][/su_accordion][/su_box]