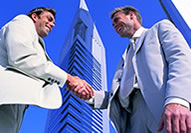 CenterPoint works with Corporations, Executive-level Buyers, Private Equity Groups, and Investment Groups to identify, assess, and engage acquisition targets.
Buyer Services For Corporate Acquirers
Refinement of acquisition plans & strategy
Rigorous search method and confidential process
Industry analysis to identify possible targets
Competitive intelligence to determine likely fit and response
Pre-due diligence prior to introduction
Arrangement of intro, meetings, tours, etc.
Valuation of target company
Negotiation advice & guidance
Transitional assistance
Other customized services as required
For a free initial consultation and further information, call CenterPoint Business Advisors at 888-988-0999.